Manuel e Francisco Aires Mateus . part1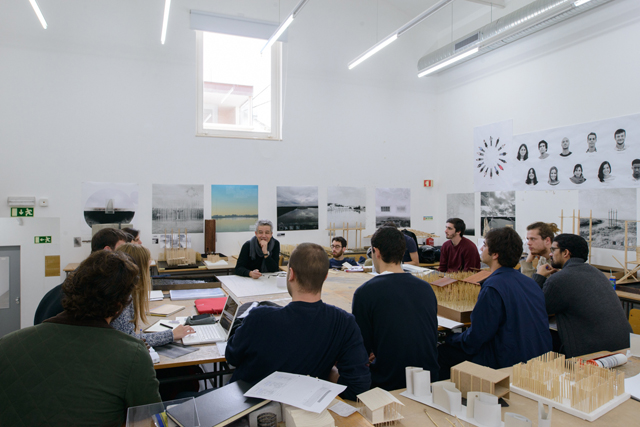 EP - First, I would like to thank architects Manuel and Francisco Aires Mateus for being here, it is a pleasure to welcome you. We would like to start by talking a little bit about your background as students. Which course units and lecturers have inspired you?
MM -We graduated in the Faculty of Architecture at a difficult time for the institution, at the time of the post-modernist wave in Portugal. I was then working in the office of architect Gonçalo Byrne and Franscisco was working in the office of architect Eduardo Trigo de Sousa.
The most important professors for me were (Fernando) Conduto, who taught Drawing and Manuel Tainha, who taught Project, in my 2nd and 5th year. Another professor was also becoming important at the Faculty of Architecture, Carrilho da Graça, but I never chose him but rather opted for Manuel Tainha. I remember his classes vividly. He was not only a great architect as well as a person who taught us that architecture is about life, life at the core of something. There were other important professors who I remember as well: Maria João Rodrigues - she was quite a surprise because she was very knowledgeable - and Maria Calado, who was a wonderful History professor.
FM -I also had the same professors but my time was not as good ... I had Manuel Tainha in my 5th year but he was rather absent because he had a lot of work, Daciano and Fernando Conduto. I remember Conduto because of his thoroughness, his emphasis on how you should focus heavily on what you are doing, I learned a great deal. However, I must say that, in terms of Project, I do not remember a year in which that subject was especially motivating.
MM –This had not only to do with the professors. It had to do with the time. The Faculty was not motivating.
FM –These were times when there were problems in the school, a struggle to control the school. Things that we consider ordinary at a school were not a concern then. And we felt somewhat disconnected, there was not the necessary involvement ... there were classes but the environment was not very interesting. Manel's class was much stronger, the more so because the students remained the same until the 5th year and had more luck with the professors.
EP - And how did you manages classes and working in an office?
MM –Classes started at 8 a.m. and ended at 2 p.m. and many people worked in offices. The times were different! We left the faculty and went to the office and only after that would we do our projects for university. We did not study much...
© João Carmo Simões .com - Todos os direitos reservados
EP - Was Architecture an obvious choice?
FM -I would say it was pretty much a natural choice. Our mother is a painter and our father was an architect, so our choice would always be something related to that. I even checked Design, Architecture ... I attended a vocational course at António Arroios (School) and realized Architecture was what I wanted.
MM –You were always able to do a lot of things. First, you were a drummer and wanted to paint, to create T-shirts, do animation, so you were more open to other things and perhaps that's why you hesitated more. I didn't. My choice was Architecture. As a kid, I considered doing Law because of my grandfather. But, in truth, Architecture was always it. My godfather, José Grade, was the director of the Faculty of Porto and a great Drawing professor. I would have loved to study at Porto but the times were hard... in the 80s, everything was complicated, there was not much money and I ended up studying in Lisbon, and so did Francisco. Our mother was friends with the generation of Siza and Soutinho, so I was sad that I couldn't study in the Faculty of Porto, because it was clearly at a different level. The Faculty in Lisbon in the 80s was mediocre.
EP - When you started teaching, was it your intention to do differently?
MM -For sure! However, we started teaching at completely different times. I started teaching right when I completed the degree, when I was 23. I started teaching technical courses and then started teaching Project. I also taught at Universidade Lusíada while I continued teaching at the Faculty of Architecture. I was lucky enough to have two very interesting experiences: one was to assist Tainha and the other to assist Manuel Graça Dias who, for me and from the teaching point of view, was probably the richest experience I have ever had. I felt a student as well because I learned to teach with Graça Dias, who is an extraordinary professor, who, besides motivating us, also opened our minds (mine and the students'), always very thorough, yet open to everything. Both in teaching and in professional life.
When Carrilho da Graça and Graça Dias leave the Faculty of Architecture, I start lecturing the 5th year, which was what I did the longest (teach 5th year) until I was fired. At that time I was already stepping out, though. This was an interesting time at Universidade Lusíada for me, especially because I was teaching with our cousin José Maria Assis e Santos. We started experimenting internationally - I started teaching at Mendrisio first and then Francisco as well. This was 13 years ago.
FM -At that time, we were already at Autónoma (UAL) but, as we were supposed to teach 3rd year, we started teaching at Mendrisio first.
MM –Mendrisio meant working with Peter Zumthor, a major reference for us as an architect and as a professor. I remember going to see the projects by Zumthor's students' at night, when everybody would be going to bed. That faculty became our Faculty. We also went to Harvard but it ended up not being a striking experience; we also did a 5-day course in Spain and in Oslo, in search of different classes, in Slovenia, where we also taught. At the universities where we work, we tend to teach what we know because we know the students and they know us and sometimes we must go abroad to, in a sense, assess our own work.
In any case, from the moment we started teaching together, teaching became a core activity. We don't have an office and teaching, we have an office and we teach. I am not an architect who teaches, I do not separate one from the other. For me, teaching or working is basically the same thing.
FM -Even in terms of time, my time is divided between the two..
© João Carmo Simões .com - Todos os direitos reservados
EP - Do you consider teaching an extension of the office?
MM –Or the office a part of research ... there is no distinction. We always considered crucial that the office had a close relation with teaching. Teaching is one of the most straightforward activities in terms of results: you get what you give. You cannot receive unless you give and when you give, you always receive.
EP - How did it feel to participate in designing a degree as you did at UAL?
MM -Three people designed the degree at UAL: (João Luis) Carrilho da Graça, (Manuel) Graça Dias and José Manuel Fernandes. Afterwards, Graça Dias brought Manuel Vicente to coordinate 2nd year and Carrilho da Graça brought me to coordinate 3rd year. We became the coordinators of the 4 years. I had been fired from the Faculty of Architecture, as had been Manuel Graça Dias and Carrilho da Graça. Yet, I am 11 years younger, which means there was an age gap. Then, each of us invited colleagues, Graça Dias invited Egas (José Vieira), Carrilho da Graça invited Inês Lobo and we (Francisco and I) were another team. This was the initial structure.
Funnily enough, when we started, we thought we knew everything about architecture and we were completely wrong. We believed that, when the students knew who would be their teachers, they would flock to UAL. That did not happen. UAL had the most interesting academic staff but that did not help the university to grow. Moreover, there were other degrees, even by other private universities, who had many students and were more attractive to students than UAL. And the degree at UAL, as expected, only found its vocation after a few years. I think it is on the right track now, more focused on attracting 2nd cycle students who already know about architecture and whose choice is much more informed.
FM -This has been a winning bet. The 2nd cycle has attracted students in Portugal as well as students from abroad who come to study with some of the professors. This is really positive. It takes many years for a school to become known. The faculty at Mendrisio is only 15 years old and competes against schools that are 500 or 300 years old ... I don't know how old ETH in Zürich is. So, some things take long to be recognized, including being recognized by parents when choosing the school they want their children to attend.
MM –Yet today, in any case, recognition of quality takes place faster than before.
© João Carmo Simões .com - Todos os direitos reservados
EP - UAL graduate students in Architecture are well recognized...
MM -that information, which before took some time to spread is nowadays diffused much faster. Mendrisio is Zumthor's school. After 10 years at the university, he has left but his influence is still felt and that has a strong imp+act. Zumthor is rather unknown when he starts teaching at the university and now he is one of, if not the best known architect in the world and that has an impact on the image of the school, an impact that remains after he has left.
Things are different at UAL; the loss of some of its professors, such as Carrilho da Graça or myself, could place it at risk, since we teach very few classes now. But that is not true. UAL can survive without us and its role is much clearer today. That clarity allows it to perform much better now.
FM –More clarity and more visibility. At the end of the day, UAL students have won Secil awards, one after the other, though the number of students at UAL is small. In fact, there are few students and many awards.
MM -There are awards, yes, but, which I consider more important, there is also the establishing of a School.
FM –I think academia acknowledges that. A students who is at the Faculty of Architecture in Lisbon knows that their type of work is not the same as in Autónoma. I believe the school has that quality.
MM –We must realize that this is a school in a context of crisis in terms of education. I am not referring to the economic crisis but to the crisis on the meaning of teaching and on teaching architecture. I don't know if there was a time when this crisis did not exist but I do know that this feeling has increased in the past few years. A crisis regarding the cultural meaning of architecture. These are moments of expectation, of change and teaching is also influenced by this. The advantage of UAL is that it has managed to find its position in terms of culture. It faces many difficulties when comparing to international universities (financial difficulties, technical difficulties, the well-known difficulties) and has always managed to overcome them. And, in some way, it has managed build its Identity. We can say that the concept of being a student at UAL exists and that is a concept that takes long to create, especially at a small school such as UAL. Autónoma was never a big school but rather a very small one. And managed to build that identity because of it. It took it less time as means to achieve it.
© João Carmo Simões .com - Todos os direitos reservados
EP - Let's go back a bit, to the balance between office and teaching... We have heard students being told that they should enjoy their time at the school because they will never be as free as they are now. Do you enjoy teaching as a space of freedom as opposed to professional practice?
MM -We have never said that! We always say the opposite. Our experience tells us otherwise, I am much freer in my professional life that I was at university. What we tell students is that we make projects exactly the same way at university and in our professional life. There is no such thing as freedom at school and boring work at the office.
Can you have a boring life? Yes! But you can also have a boring school. Throughout your life, you need to face work the same way that you face school, where there is more freedom. To be 50 and feel as fresh and willing as when you were 20, that is real work. Neither Francisco nor I think that professional life is boring. Our professional lives are not boring. They may be hard but not boring. We do not think that there is more freedom at university. My biggest surprise, and I think Francisco's too, was that, when we started working (not in the beginning because we know nothing at all) but when we started to control what we were doing, we had much freedom at work. This is still my opinion today.
FM –That freedom is essential because if you do not feel it, if are limited. This is the idea that we want to get across to students. The idea that they need to conquer their freedom, to keep it and understand that freedom, which is only possible if grounded on integrity at cultural and intellectual level. Otherwise it becomes foolishness. That freedom must be integrated so that it becomes value.