JOSÉ ADRIÃO . Teaching and Practice . part2
© João Carmo Simões .com - All Rights Reserved
The classes you lecture here at UAL also allow students the experience of travelling.
Juan Herreros once explained a project he did with his students, in Madrid. He would arrange to meet them somewhere in Morocco. The program was to create a hostel that would give shelter to a traveller coming from Europe towards the south of the African continent, and an African coming from the south and emigrating north. These two people would meet in a specific place, and – at that time – they would have exactly the same needs: eat, rest, cool off, take a shower, etc. This hostel should be able to receive, in a comfortable way, these two people. An excellent exercise, isn't it? We, unable to go to Morocco, or farther, started an exercise in the Island of Faro and repeated it in Sagres, Arrifana and Porto Covo. The main idea is to take the student out of his comfort area, which is the city they live in, and go to places that are, for most of them, unknown. And this way they know each other. They are there a weekend, sleeping, walking, staying on the beach. Then, when they return, they have to make a presentation of the place in a very intuitive way. The exercise has to do with that trip, being in a different place, which is not a part of their routine. Afterwards, we start analysing and understanding the territory.
Currently the third year has become very striking, and you emphasize the passage from the third to the fourth year…
The third year with Ricardo Carvalho, and now also with Rui Mendes, is the end of a cycle and so there has to be a kind of synthesis. This way, we suggest specific exercises which evolve from a territorial scale to a more intimate scale, of dwelling. Places like Arrifana, Sagres, Porto Covo, and Island of Faro, are very asymmetrical. They have the summer seasons, extremely intense, and the winter, where very little happens except waiting for the peak season. They are wonderful places, with extraordinary landscapes, but full of problems, with misunderstood planning, with badly done construction. For example, on the Island of Faro and Arrifana, the illegal houses, built precariously, are much more synchronized with the place than the legal housing, made in concrete, brick walls, swimming pools, those sorts of things. But, many times, those illegal constructions, even if fragile, jeopardize the land where they were built on. On the Island of Faro they had to be demolished them, because the land was in serious erosion and something had to be done.
In the beginning, there is not a set program for the project. We go to the places to find out which are the matters and relevant issues to tackle. There is a very intuitive first phase, which is learning how to look at things. When we arrive at the place, for instance in Arrifana, we walk around, and are faced with a scarce, rarefied, rude, and windy landscape. Then we start studying the flora, fauna, geology and see there are dozens of protected species, one of a kind in the world, and we suddenly have a lot of data for the project that we need to select and categorize. This is not only for the vegetation, fauna and geology, but also a thousand years of human occupation. There are paths where people have travelled for more than three thousand years on their way towards the south, or from the south towards north.
When all of these layers start to appear, things get more interesting. We believe the experience the students should have in their third year is how to learn to build a project from a very clear strategy, how to identify the problems and not creating other problems. There is not a program when we start working, and slowly, as the work evolves, we detect the problems or the programs that are missing in these places. It can be a social centre, a small hostel, a surfing camp. Usually, we decide what is needed to be done after evaluating the students' analysis.
In the third year, we want students to learn how to build a project from a big scale to the detail, always following a logic that should be synchronized from beginning to end. When the strategies defined are based on the land and the issues are real, the projects tend to be simple and natural, and this could be interesting. All the projects must contain clear and precise logics.
We want students to explain their options well. For this, since the beginning, the work presentations are always shared with the teachers and the class. The students end the semester and, facing the final jury, are coherently able to explain logic. Saying the right sentences at the right time, according to an elaborated text that summarizes the project is very gratifying.
In my academic background, throughout my six years studying in Lisbon and Oporto, I think made two projects presentations to an audience, once in my second year, in Lisbon, and then in my final thesis presentation, to a jury in Oporto. I find it difficult for a student, whose profession is to constantly explain their ideas and thoughts to others, to be prepared this way. I think students today are much better prepared when they finish university than when I finished.
© João Carmo Simões .com - All Rights Reserved
Many of your students are working in Angola, or South America, in a different scenario from the European one, which you mentioned earlier. Does this type of exercise also prepare them to work in these countries?
Generally, the preparation in Portuguese schools is good. The course at UAL, where the students acquire instruments and work tools and, comparing many universities I know, has an excellent level. They acquire something fundamental: how to think, and reason, within an academic environment. They are able to create reason that can be applied on smaller or bigger scales. I think that a student, from the moment he is able to put in practice and develop, through projects, a coherent work strategy, creates a method that can be applied in several situations. It is necessary to identify the problems well, the needs of a specific place or site, it is necessary to solve the questions in a fair and just way, and it is necessary to simplify. The tools and instruments they acquire in university are always useful, to work in Angola, to work in a nature conservation institute, to work in planning, to work in urbanism, or simply as citizens.
The students discover architecture and the pleasure of architecture in different moments: some in their first year, others in their second, and others in their third. Sometimes we happen to have students that for some reason lack motivation, or still haven't figured out how things work. Sometimes they discover from us that what they are doing at university may have a meaning and take great pleasure from that. There are students who repeat a year, that fail, and then are brilliant students. It is necessary to be calm and to know that in university it is necessary to be completely aware. I read somewhere "Tell me who your teachers were, and I will tell you who you are". This sentence has true meaning to me. The opposite is ignoring five fundamental years and eventually becoming a mediocre professional.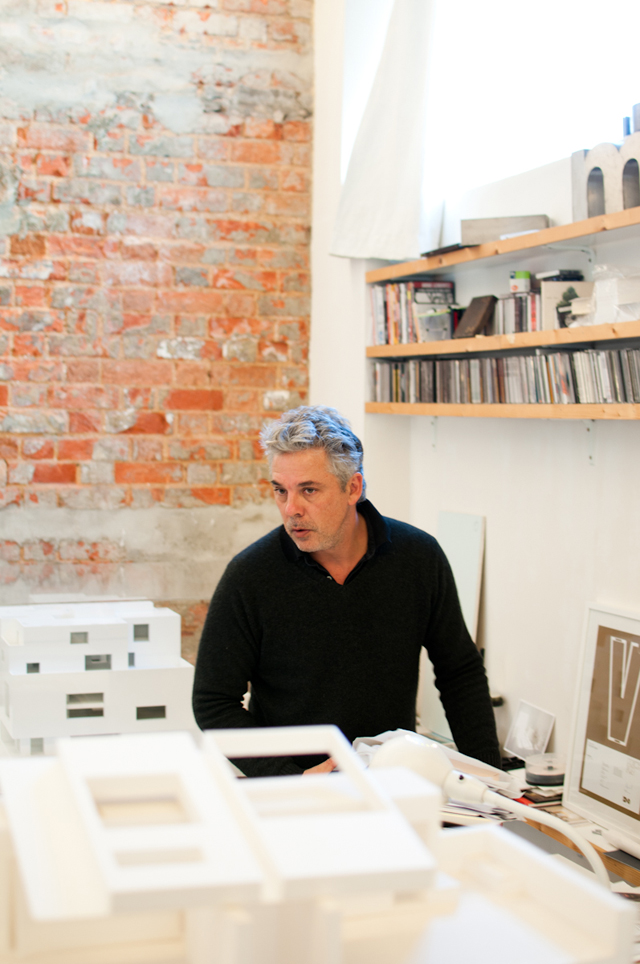 © João Carmo Simões .com - All Rights Reserved
You emphasize in a certain way the need to complement the knowledge of architecture, things that a person will discover, academically, through trips, through music and through friends…
Architecture can be made in so many ways, and there is very little good architecture and so different! There is something I find interesting: when things are genuine. When architects have a genuine speech about things, it shows. When Ricardo Carvalho and I were the editors-in chief of the Architect's Newspaper, between 2006 and 2009, we interviewed different architects - Álvaro Siza, Aires Mateus, Souto Moura, Gonçalo Byrne, Jean Philippe Vassal, Carrilho da Graça, Juan Herreros, Manuel Graça Dias, Manuel Salgado, Paulo Mendes da Rocha, Promontório and Zumthor. Each one of them exposed their own way of relating with the world. The architecture they produce reflects that. From the different combinations of our way of doing something, our way of feeling and positioning ourselves in the world as citizens and as professionals, can result in incredible things. But things can only become interesting and can truly be useful to others when they are genuine. Even when containing contradictions and not being linear. For this, what we say to our students is: "Understand what your interests are, understand how you want to be in the world and, afterwards, show us a view of how this is possible to carry out into architecture".
I like diversity, heterogeneity. I like to watch people thinking in a different way, I like to be faced with the unknown. In fact, this is the journey,facing the unknown.
In relation to the students, to the possible works they may have in the future, I believe our profession is in transformation, the world is in transformation. Gianni Vattimo, who is a philosopher, said: "Life is beautiful because it changes." We don't know when it will change, and we don't know where, but we know it changes; and architects will have to find new ways of doing it. This is not new. We already knew that. Things are always changing since the beginning of times.
When my generation left school we made something that was interesting and almost generational, and which was not common,. Facing the complexity of the profession, facing our inexperience, we decided to work in pairs. Pedro Pacheco and I formed a pair, Inês Lobo started working with Pedro Domingos, Ricardo Bak Gordon with Carlos Vilela, Cristina Veríssimo with Diogo Burnay, Pedro Ravara with Nuno Vidigal, in Lisbon. And then later, Aires Mateus, with ARX and Ricardo Carvalho with Joana Vilhena. Also, in Oporto, Cristina Guedes and Francisco Vieira de Campos, Luís Tavares Pereira and Guiomar Rosa, João Pedro Serôdio and Isabel Furtado, joined in pairs. It was our way of dealing with the issues we were facing. There were also other ways, for instance the Promontório, who created a bigger group. I think what will happen is that the next generations will find other ways of dealing with work issues and create job opportunities. Will they gather more, gather less, or gather in a different way? We, as architects, pair up, but why don't architects and engineers form a group, or architects and real estate agents, or architects and builders? The next generations will for sure find an answer for what is currently happening. How? No one knows. We did it our way; they will have to find their own way.
The projects you are making reflect this change?
Everything is much more flexible, much quicker, but it was also faster back then. Our profession has changed a lot in the last twenty years. Architects will have to be there from the beginning of the process. For instance, I handed out a work which was to recover a building in the downtown area (Baixa Pombalina), the "Fanqueiros Profect"(05). We worked with the client from the start. The client wanted to invest in Lisbon, to buy an old building, because he likes Lisbon and the city centre's architecture. Our workshop made a contract with real estate agencies in order to find buildings to recover and meet our client's interests. We established the tenders with the construction companies, with the supervision authorities, we searched for possible state funding, we searched for available European funding. Architects have, more and more, to be inside the whole process. They can not only be doing just the project in their workshops, they must be active agents in a more diverse way.
© João Carmo Simões .com - All Rights Reserved
You mentioned earlier that you like diversity. I would like to know if that reflects in the work space, with your collaborators, in your work process. …
We are a small group of five people, and things flow in a very normal way. The method and the work process vary according to the people who enter the work place and the specificity of each work. Each project has a responsible collaborator who is in charge of the project. I am the general coordinator. Together we make decisions.
We have certain concerns, which is also shown in the way I teach in class, which is to try to understand as much as possible the place we are working in, criticize the program and to transform and build it in a more rigorous and clear way as we possibly can.
I believe architecture starts in the program and that all options must be well thought. We normally tend to doubt the programs that are given to us to develop, because we often face options which we believe are not the best ones. To make architecture, draw, build, is a long, laborious and an expensive process. There is not much margin for failure. You must draw what is necessary and think if this is still the case five years from now, because, as we have seen, things change rapidly. Then, it is a team work. And sometimes we are lucky that the whole team is good, including the client and the builder. To make architecture is in fact a team work.
What are you working on at the moment?
This year we have mainly worked on rehabilitation. Lisbon has a very interesting urban fabric and many buildings were going to be demolished but fortunately, with this crisis, they still stand. We are also working in Mouraria and Junqueira.
There are areas in Lisbon with buildings or a group of urban buildings with great typological or constructive value. Once I had a workshop in Rua da Padaria, in the downtown area. I witnessed that people would put two hundred years old doors and window frames, doors, and shutters into the trash bins in front of their buildings, as if they were worthless.
We understand now that those elements can be preserved, even though they are imperfect, but still have their own value.
Another important issue is that the rehabilitation allows us to work with typologies which are not the conventional ones. In the last few decades, apartment buildings built in Portugal repeated the "T" typology to exhaustion. For example, the "T" typology – that we think is universal but is typically Portuguese – has invariable an area where the rooms are and another one with a social area. When we enter unfamiliar houses with this typology we know exactly where the bath room is, where the kitchen is, etc., because they are always in the same place. In the downtown area of Lisbon, the houses, more than living rooms or bedrooms, have spaces, which can be transformed into what you wish, for a specific period of time.
We also rehabilitated an apartment in Alcântara, where the two bedrooms where on opposite sides of the apartment. And in the middle was the social area. For this, the apartment can be shared by friends and keep their privacy. The typologies we have encountered in the buildings we are rehabilitating suggest another type of living, more flexible and probably more adequate nowadays. For not being subjected to the rules, sometimes absurd, that the new constructions are facing, we can explore other combinations that are not according to standard but reveal great possibilities.
There is a type of architecture that evokes and incorporates that imperfection. I am interested in things that evoke and incorporate what is real, the imperfect, and which are incomplete in a certain way and are temporary. That is what moves us.
In the last few years, the workshops that mostly stimulate me are the ones that have this kind of strategy when dealing with a project. I have been interested in Herzog & de Meuron since university. The "Casa de Pedra" (House of Stone) is an example. They are able to transform simple and common things into extraordinary ones, and the project strategies always vary from one program to another. For instance, the Tate Modern or the Rehab Centre are two exceptional buildings that are developed from considering the program. The Tate revolutionized at the time what was rehabilitating a factory building and with the notion of museum. The Rehab was one of the most moving and emotional buildings I have ever seen. It is a post-tramatic unit for accident victims. The building is comforting and delicate. Wood, glass, white curtains, light and water. These two buildings are almost done simultaneously and the strategies – and consequently the materials in which they are built with– change, to answer to the program. These buildings are truly made for people. They are only meaningful, or are really architecture, with people. There are many architecture works that dismiss people. They are so complete and so perfect that they become a closed system. Having someone or not inside the buildings is, in these cases, quit irrelevant. The person using the building is projected only as a passive bystander. I like architecture which becomes complete with people, which motivate people to participate in the building and complete it. This is how I like to do architecture.
© João Carmo Simões .com - All Rights Reserved
So architecture is not to make the world perfect after all …
I don't think so. I prefer normal things. There is simply something that beauty and perfect can not contain.
01 Filipe Figueiredo and José Segurado designed in 1952 the intersection of the two most important avenues of the Alvalade neighbourhood with 4 big blocks and 13 floors displayed in perpendicular, contradicting the square's plan. The functional program pointed to a typical solution of "housing unit": interior galleries, minimum housing, duplexes, and usable terraces. The seventh floor, located at the central level of the building, is treated formally as a lug separation that marked the commercial floor, and services. It was transformed, however, into a traditional housing program, erasing the centre floor of services and putting the commercial area on the ground floor. The vibrant formal expression developed with a strict professionalism would however be maintained using the lug separating the two blocks, the vibrant colour of magenta, the variety of materials and textures, the sculptural design of the balconies as boxes protruding from the front. Ana Tostões in: Conjunto Urbano Vá-Vá, La Vivienda Moderna", 1925-1965. Registro DOCOMOMO Ibérico.
02 Café Vá-Vá. Opened in 1958, by the architect and designer Eduardo Anahory. With a street café overlooking the new avenues of Lisbon (intersection between the avenues Roma and EUA), had the usual presence of known people and with a capacity of public intervention in the decades leading up to the April 25, 1974. There was a cinema group, the so called new cinema , with António Pedro Vasconcelos, Fernando Lopes, Paulo Rocha, who lived in the building of Vá-Vá [and made of the café the set for one of his emblematic movies in the history of the Portuguese cinema "Verdes Anos"] and Lauro António. There was the musician group, with Fernando Tordo, Paulo de Carvalho, Carlos Mendes, many journalists, Luís Villas-Boas (from jazz), painters. Going to Vá-Vá was to make opposition to the regime, if not only to be there talking openly about things that were not heard of in other places.
Twenty years later, living in freedom, a new generation of musicians who wanted to sing Portuguese rock music joined this group. Zé Pedro, guitar player for Xutos & Pontapés, goes through the phase "living life on the street cafés" in the intersection of these two big avenues. Zé Pedro remembers that Sétima Legião rehearsed nearby ("we would even hear their rehearsals in the street"), elements from Heróis do Mar were also there. Vá-Vá was a part of what Zé Pedro classifies as "the punk route": that's where they gathered before going out at night. During the day, it was a gathering point for musicians. Luis Francisco In: Público P2 "O que torna este café tão especial" 25-07.2007.
03 "DA - Documentos de Arquitectura" – Edited by José Adrião and Rogério Gonçalves. Editorial team Francisco Vassalo and Pedro Pacheco. 4 editions have come out since the summer of 1999. The first one was a photocopy edition. Several interviews to different architects such as: José Gigante, Josep Llinàs, Josep Quetglas, Manuel Gallego and Vitor Figueiredo. A.E.D.A., Associação de Estudos Documentos de Arquitectura.
04 "Discursos sobre Arquitectura" – Was a conference cycle that gathered in 1990, in the auditorium of the Fine arts school in Oporto, a notable group of architects. The Architecture University in Oporto celebrated the last decade of the century with a great initiative and ambition. Some names, in the beginning of their carriers, such as Jacques Herzog and Peter Zumthor, would be later on recognized with the Pritzker Prize. James Stirling, a central figure in the post-war architecture, made here one of his last conferences.
The cycle "Discursos sobre arquitectura" was organized in1990, by Carlos Machado, Eduardo Souto de Moura, João Pedro Serôdio, José Bernardo Távora, José Paulo dos Santos, Manuel Mendes. Jorge Figueira in Discursos (Re)visitados - Ciclo de Vídeo. U.Porto, Faculdade de Arquitectura da Universidade do Porto
05 Fanqueiros Project – Projeto of 2011 from José Adrião "Arquitectos na Baixa Pombalina de Lisboa". The Project received the Vasco Vilalva Prize for the rehabilitation and enhancement of heritage in 2011 and the FAD Prize for "Interiorismo/Opinião" 2012.