António Marques Miguel . Utopia by Thomas More
UTOPIA
Thomas More (1478-1535), Sir and Saint
The book "The Best State of a Republic and of the New Island Utopia", known only as UTOPIA, raised Thomas More as the uncontroversial figure of Renaissance, with a double meaning as a man of letters and a civil rights advocate.
THE REPUBLIC of Plato, despite its nineteen centuries, was certainly inspiring for the English diplomat and Chancellor of King Henry VIII, with the theme of political philosophy, which reports the injustice of the polis, and with More recovering some of its ideals and dialogs.
More, a firm Christian believer and a servant, above all, of his God, said that he was "From a respectable family, without being famous", created his book with three characters; himself, his friend Peter Gilles, from Antwerp, and the sailor "born in Portugal "Raphael Hythloday, introduced by Gilles, because "There is no other on earth capable of giving such complete and interesting details about men and unknown regions".
In More's plot, the narrator is his alter ego (PINA MARTINS, 2006), a sailor who followed the Florentine navigator Amerigo Vespucci in his travels to the New World. In this obvious fiction, choosing Raphael, a biblical name and Vasco da Gama's second caravel when travelling to India, plus his surname being Hythloday, which meant "speaker of nonsense", reflects, and describes, Thomas More's options that he had known the Itinerarium Portugalensium who narrated, with details, extraordinary adventures of travelling and discovering new people.
More permeated by the disenchantment of his Europe imagines that only in the New World there will be a place of happiness among men, organized, the island of Utopians, in nowhere, making Outopia (no-place) a Eutopia, good place.
Thomas More who had always served his King, supporting some contradictions, had as a friend, the great humanist and educator Erasmus of Rotterdam (1466-1536), and we know that the Praise of Folly (1509), the important reformist work, critical of the social life at the time, including the Church, was written and discussed between both of them in London.
But it was Peter Gilles, his first acquaintance in Antwerp, who dealt with intellectuals and artists, Guillame Budé, Lefèvre d'Étapes, Thierry Martens, Albrecht Dürer, among others, who introduced him to Erasmus and published the edition princeps of UTOPIA (1516) under his supervision.
The work is structured in Book I and Book II, appearing in the translations, added by some letters by the author and his contemporaries, and theUtopian Alphabet which includes Verses of the New Island of Utopia.
In Book II, which had been the first, is "a description of that wonderful island. Do not omit any details, I beg of you", thus More said to Raphael, to which he replied "but the narrative is long. " (…) "Wethen went home for dinner and after went back to the garden sitting on the same bench." (…) " He, seeing our attentive and eager curiosity, gathered for a moment in a silent meditation and said: (Book II) – The island of Utopia is in the middle 200 miles broad …".
This second Book, the Utopians' way of life, is structured in eight chapters ranging from the physical description of the territories where its fifty-four cities are similar (Amaurot is one of them, the seat of government and the Senate), to the last one about the religions practiced; speaking about the magistrates /zeal for justice; minimum six hours working days, mainly in agriculture; duties and family rights; citizenship; the travelling they undertake; the distribution of goods (there is no private ownership) and war.
The fittest form the educated elite, but all positions are elected. Slaves are thieves, or those who misbehave, but not by their parents, or even enemies caught with weapons. Couples meet each other naked and adultery is condemned with severe penalties; Christian morality prevails here.
Book I is written in dialogue, first between More and Peter Gilles, then with Raphael and the latter with a fourth character his "eminent John Morton, Cardinal Archbishop of Canterbury and Chancellor of England".
This Book by More addresses two controversial topics: the appropriateness or not of the philosopher's presence in advising the princes and the punishment (death penalty) applied to thieves in England.
In More's opinion, philosophers had the responsibility and should provide solid teaching, invaluable advice and assist the kings. As for the thieves, if there were equal conditions for all there would be no excuse for theft.
"Firstly the princes are only concerned with war: a craft that is unknown to me and I do not have any desire to practice. "
"Death is, in this case, an unfair and useless punishment: too cruel to punish the theft and too strong to stop it. "
These are Raphael's lines, the sailor who read in Greek and "wasonly devoted to philosophy" and not Thomas More, as an author.
But some of "his contradictions" do not invalidate the firm belief that the great example was refusing to take the oath, under" Order of Succession " and the "Act of Supremacy " – due to the union of Henry VIII to Anne Boleyn – with fidelity to his conscience and faith, which earned him, "clemency " from the " head of the Church of England " the penalty of " a single decapitation " instead of " being suspended by the neck " and fall to the ground still alive to be " quartered and beheaded."
It was this fact that made him a martyr for canonization by the Catholic Church, on May 9, 1935. Erasmus praised him as a man "whose soul was more pure than any snow." He was already made a Sir by the English crown.
History registers Thomas More's courage, his irony and sense of humour, while on his way to the gallows he said to the guard "Help me up carefully, I'll manage myself going down" and then, he pulled his beard aside because it had never offended the king.
It was this humanist, a Christian English, describing citizenship, the city with physical contours, who admittedly wrote nearly 1700 years ago, the first and the most beautiful human utopias (followed by The New Atlantis by Francis Bacon in 1627), idealizing Man returning to his dignity, criticizing the reason for a State on behalf of those requirements, and a fictional Raphael..
"True dignity does not consist of ruling over beggars, but over rich and happy men. "
However, Thomas More understood the human being well, so he wrote "Furthermore, I was not sure that he (Raphael) would be able to endure the contradiction" , his Utopia contained, so human, a reflexion of himself.
He praised the institutions created by Utopus, founder of the island, but thus finishing his work with: " I want it more than I expect".
Oscar Wilde said that for each open window another would be given, he referred to utopia and wrote "TheSoul of a Man under Socialism."
Utopias, source of alternatives, are not objectionable, the Utopians, simple unrealities, yes.
November 2012
António Marques Miguel
Bibliography
A UTOPIA, Tomás Morus, Lisboa, Guimarães Editores, 9ª edição, 1994
Tradução de José Marinho, Notas e Postfácio de Pinharanda Gomes
VTOPIA ou A melhor forma de governo, Thomas Morvs, Lisboa, Fundação Calouste Gulbenkian, 2ª edição revista, 2009
Tradução, com prefácio e notas de comentário de Aires A. Nascimento
Estudo introdutório de José V. de Pina Martins
____________________________________
____________________________________
Going back to the school year 2002-2003, and the subject "Thought and Communication", fourth year, with sixteen students, we proposed to read this work and then "communicate" between text and drawing. With pleasure, I attach a partial "selection" of works, for future memory of the students in the Architecture/UAL Department.
The Island drawn with theUtopian Alphabet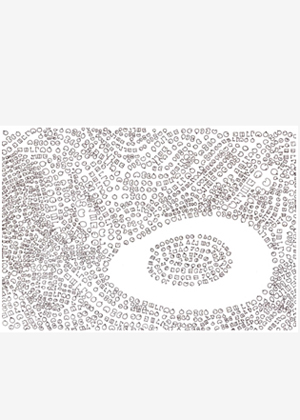 Alexandra Vieira
(...) "Plato and Tomas Morus showed that Man is worth by what he can be and do, regardless of his exterior features. They showed the true search for truth, Man, in fact, searches the truth, but many times, can not live without it."
Carlos Lemos Sequeira
"THE INTRODUCTION OF AN ERROR IN A Cyclical SYSTEM, ARISES Evolution"
João Caria Lopes
"I'm from nowhere, don't have any parents, I live in Utopia Island. I am João Pedro Utopos..."
Miguel Marcelino
(...)Utopia was not always an island; Utopos seized it and gave it his name".
Ricardo Barbosa Vicente
The "Political triumph" in which freedom becomes, loses sight of the real conditions in which it arises"